Publications of the Project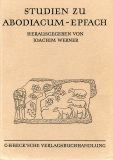 Werner, Joachim; Boessneck, Joachim

Studien zu Abodiacum-Epfach

Münchner Beiträge zur Vor- und Frühgeschichte

7

BV003006122

1964, Beck, München

X, 261, 83 S.; zahlr. Ill., Kt.; 3 Beil.

Beiträge: Boessneck, Joachim; Brunnacker, Karl; Brunnacker, Margrit; Kellner, Hans-Jörg; Kraft, Konrad; Müller-Karpe, Hermann; Radnóti, Aladár; Schmid, Karl; Stein, Frauke; Walke, Norbert; Ziegelmayer, Gerfried.