Publications of the Project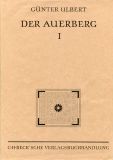 Ulbert, Günter; Zanier, Werner; Flügel, Christof

Der Auerberg

Topographie, Forschungsgeschichte und Wallgrabungen

Münchner Beiträge zur Vor- und Frühgeschichte

45

3-406-37500-6

BV009961515

1994, Beck, München

245 S.; zahlr. Ill., Kt.; 5 Kt.-Beil.

Beiträge: Baatz, Dietwulf; Behre, Karl-Ernst; Drescher, Hans; von den Driesch, Angela; Gerndt, Helge; Keller, Erwin; Kroll, Helmut; Neyses, Mechthild.