Publications of the Project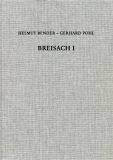 Pohl, Gerhard; Bender, Helmut; Bakker, Lothar; Pauli, Ludwig; Stork, Ingo

Der Münsterberg in Breisach

Römische Zeit und Frühmittelalter, karolingisch-vorstaufische Zeit

Münchner Beiträge zur Vor- und Frühgeschichte

39

3-406-10756-7

BV021483697

2005, Beck, München

402, 52 S.; zahlr. Ill., graph. Darst., Kt.; CD-ROM (12 cm) und 4 Kt.